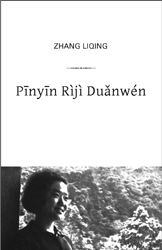 I'm very pleased to announce the publication of a new book, Pīnyīn Rìjì Duǎnwén, by Zhāng Lìqīng. Other than one introductory letter in English, the work is entirely in Mandarin.
This is perhaps the world's first Mandarin-language book to be published in Hanyu Pinyin without so much as one Chinese character. Thus, it is of historic importance. But it's also a wonderful collection of stories. The author generously granted Pinyin.info the right to release all of this book online.
The work will also soon be available in an inexpensive printed edition.
Some of you will recall Zhang's lovely story Dàshuǐ Guòhòu ("After the Flood"), which first appeared here three years ago. It leads the new collection. The remaining twelve memoirs/stories are mainly in the same vein, recalling a childhood in China and Taiwan.
Zhè shì yī gè lǎo gùshi. Shìqing fāshēng zài 1946 nián xiàtiān. Nà nián wǒ jiāngjìn shí suì, zhù zài Sìchuān Chéngdū jiāoqū d Bǎihuā Qiáo. Zhōngguó Kōngjūn Tōngxìn Xuéxiào d jīdì zài nàli. Wǒ bàba shì nà ge xuéxiào d jūnguān….
The author died earlier this year. She was able to view proofs of the work, though her illness prevented her from making any corrections herself. Fortunately, several people stepped in, contributing substantially to the checking of the Pinyin and other aspects of the work. I'd like especially to thank the following people: David W. Goodrich, Jiao Liwei, Kuo Hsin-chun, Melvin Lee, and Victor H. Mair. Any errors found in the book should be considered my own.
Please report any divergences from the Pinyin orthography established by Yin Binyong and the spellings used in the ABC Chinese-English Comprehensive Dictionary (Zhang was, after all, one of the associate editors of that massive work) to me. I've made very few intentional departures from those.
Please note that the use of "d" (where most authors would use "de") is intentional. This is not a bug but a feature, something I came to understand better the more time I spent with this text. The use of "d" is explained in the second introductory letter (Liǎng Fēng Gěi Biānzhě d Xìn: 2).