Recently I took some trails through the mountains in Taipei and ended up at Shih Hsin University (Shìxīn Dàxué / 世新大學). Near the school are some interesting signs. Rather than giving individual posts for each of these, I'm keeping the signs together in this one, as this is better testimony to the increasing and often playful diversity of languages and scripts in Taiwan.
Cǎo Chuàn
Here's a restaurant whose name is given in Pinyin with tone marks! That's quite a rarity here, though I suspect we'll be seeing more of this in the future. The name in Chinese characters (草串) can be found, much smaller, on a separate sign below.
二哥の牛肉麵
Right by Cao Chuan is Èrgē de Niúròumiàn (Second Brother's Beef Noodle Soup). Note the use of the Japanese の rather than Mandarin's 的; this is quite common in Taiwan.
芭樂ㄟ店
This store has an ㄟ, which serves as a marker of the Taiwanese language. Here, ㄟ is the equivalent of 的 — and of の.
Bālè ei diàn

A'Woo Tea Bar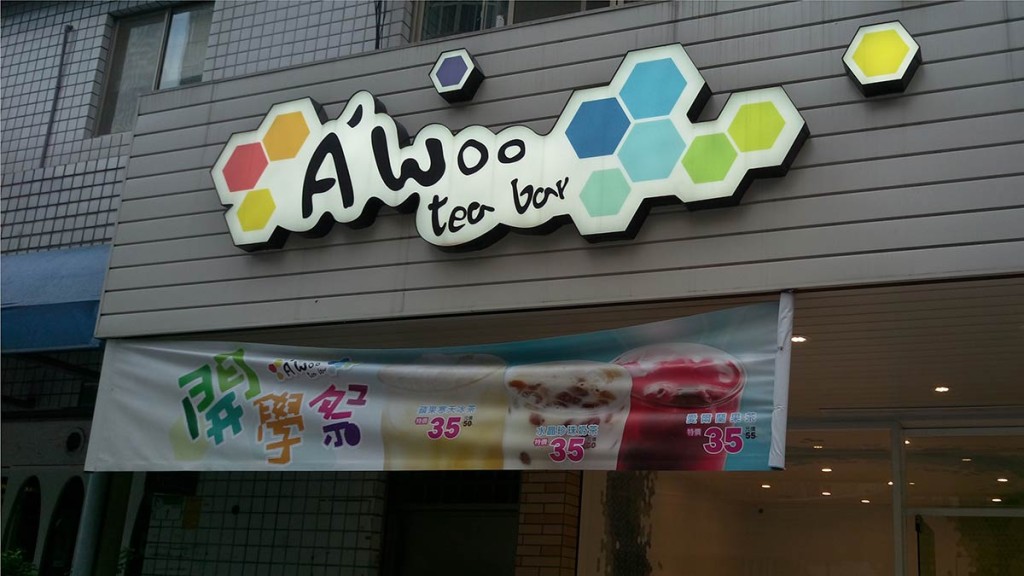 I couldn't find a name in Chinese characters for this place. The name is probably onomatopoeia, as in "Werewolves of London — awoo!"