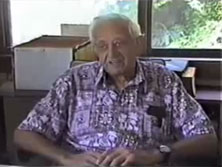 Ten years ago John DeFrancis was awarded the Chinese Language Teachers Association's first lifetime achievement award. Since he could not be present at the association's annual conference to receive the award, he sent a videotape of a 12-minute acceptance speech. The video was recently edited down to 6:27 and uploaded to YouTube: John DeFrancis remarks.
Here's my summary of the main points:
0:00 — While working on what he intended to be a largely political study of Chinese nationalism, DeFrancis encountered references to people who wanted China to adopt an alphabetic writing system, an idea which he initially dismissed. But discovering Lu Xun's interest in romanization led him to investigate the matter further. [I'm frustrated by the cut away from this discussion. Perhaps a fuller version of the video will be posted later.]
1:30 — Emphasizes he's not in favor of completely abandoning Chinese characters. Rather, he favors digraphia.
2:30 — "I'd like to mention three aspects of the Chinese field which have interested me."

pedagogy (2:50) — lots of advancements
linguistic aspect (3:20) — that's also progressing well
socio-linguistics (3:52) — the field isn't doing as well as it should be

5:00 — computers and Chinese characters. DeFrancis tears into the Chinese government for its emphasis on shape-based character-input methods rather than Pinyin.