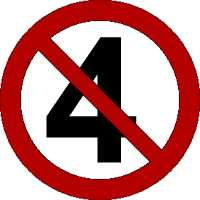 Superstitious dread of the number four is so widespread in Taiwan that the officials in charge of the issuing of license plates for vehicles have decided to abandon use of that number altogether for personal cars and motorscooters.
I'm not making this up.
Beginning next year, new license plates for cars will have two alphabetic letters and four digits, and scooters plates will have three alphabetic letters and three digits — and neither of them will have any fours. The reason behind this is that in Mandarin the word for "four" (sì) sounds similar but not identical to the word for "die/death" (sǐ). In Taiwanese the situation is the same: the words are similar but not identical.
It turns out that this is more an expansion of an existing policy than something completely new. The Ministry of Transportation and Communications has long had a policy that kept 4 from being used as the final digit in a license number. And ten years ago this was expanded to cover the second-from-the-last digit as well.
Although I was aware of the superstition involving the number four, I'd never heard of this license policy before. So on the way home last night from the movies I paid careful attention to license plates and, much to my surprise, saw no fours as the final or penultimate digits — except on one bus (not covered by the policy) and one car that looked like it was more than 10 years old (and thus would have a plate number that had been grandfathered in).
But even this allowed for too many fours for many motorists. More than 30 percent of vehicle owners pay some NT$3,000 (US$90) each to be able to choose their own plate numbers — which doesn't provide anywhere near the same freedom as, say, U.S. drivers can have with their vanity plates.
Especially dreaded by some was the combination "45" (sì and wǔ), which sounds vaguely similar but certainly not identical to sǐ wǒ. This might be translated "death me" (??). If that sounds not quite right, that's because sǐ wǒ is not grammatically correct Mandarin or Taiwanese.
Given the nature of my Web site, I'd like to note a few things here other than that superstitions are stupid. First, note that Taiwan uses the Roman alphabet and Arabic numerals, just as Western countries do. Although Chinese characters are used to identify the area of the vehicle's registration, they have nothing to do with the identification of the car itself. Numbers are not given in the form 一, 二, 三, 四, 五, 六,七, 八, 九, 十 but 1, 2, 3, etc.
Furthermore, this situation with the license plates contains a lesson on the ideographic myth. Superstitious motorists aren't seeing the Arabic numeral "4" as an, ahem, ideograph; it is still very much being tied to sound. That the superstitious seize upon the association despite the fact that the sound is not identical to that of the dreaded word for "death" is, I believe, reflective of how readers of Chinese characters must be flexible in how they interpret characters' phonetic clues. The phonetic elements of Chinese characters have over the course of millennia become so out of synch with the modern language that many, many characters at best only hint at rather than express their pronunciation. Thus, readers must allow for changes in tone, in initials, and in finals. (And often that's not enough, forcing people to fall back on tedious rote memorization.) Chinese characters are quite simply not a good match for modern Mandarin.
Many thanks to Jens at my favorite ice cream store for alerting me to this story.
Guórén jìhuì「4」, qìjīchē páizhào huàn fā ruò pèngdào Ālābó shùzì 4, cháng yīn mínzhòng bù yuàn lǐng pái ér lācháng páizhào fāfàng zuòyè shíjiān. Jiāotōngbù kǎoliáng mínzhòng de xīntài, juédìng míngnián quánmiàn huàn fā de qìjīchē xīn páizhào, qǔxiāo suǒyǒu hán Ālābó shùzì 4 de hàomǎ.

Jiāotōngbù gōnglù zǒngjú zǎoqī jí yǐ qǔxiāo zuì yòubian de 4 zìmǎ, 10 nián qián yòu qǔxiāo chēpái hàomǎ yòubian dì-èr mǎ de 4, wàichuán 4444 chēpái shì gěi bìnzàng yè shǐyòng, bìngbù zhèngquè. Xiànxíng chēliàng páizhào jǐn yòubian dì-sān wèishù jí dì-sì wèishù yǒu 4 zìmǎ, dàn mínzhòng réngyǒu jìhuì, lìrú 45XX, xiéyīn jiùshì「sǐ wǒXX」.

Jiāotōngbù gōnglù zǒngjú Táiběi qū jiānlǐ suǒzhǎng Wáng Zhēn-shèng biǎoshì, měi ge yuèdǐ huò niándǐ dōu shì jiāo chē lǐng pái jiānfēng shíduàn, dàn ruò pèngdào yǒu 4 de chēpái, chē shāng huò mínzhòng cháng xuǎnzé zìfèi xuǎnhào, huò gāncuì guò jǐ tiān zài lǐng pái, yǐzhì jiānlǐ suǒ zhàn huàn fā hán 4 de hàopái shí, suǒxū zuòyè shíjiān yuē wèi huàn fā yībān hàopái de liǎng bèi.

Jiāotōngbù gōnglù zǒngjú jiānlǐ zǔzhǎng Xiè Jiè-tián zhǐchū, guórén qìchē shǐyòng niánxiàn píngjūn 10 nián, wèile qǔdé hǎo zhàotou, sān chéng yǐshàng chēzhǔ nìngyuàn huā liǎng, sānqiān yuán xuǎn chēpái hàomǎ;jíshǐ bù huāqián xuǎnhào, yě dōu jìnliàng bìmiǎn lǐngdào hàomǎ zhōng yǒu 4 de chēpái.

Xiè Jiè-tián biǎoshì, qìjīchē xīn páizhào xíngshì yǔ xiànxíng chēpái jīhū xiāngtóng, qìchē cǎi liǎng ge Yīngwén zìmǔ jiāshàng sì ge Ālābó shùzì, jǐn jiāng mùqián hàopái shàngfāng Táiwān Shěng, Táiběi Shì jí Gāoxióng Shì děng zhíxiáshì fēnlèi gǎiwéi Yīngwén zìmǔ. Rúcǐyīlái, chēpái hàomǎ róngliàng zēngjiā èrshíwǔ bèi, dádào yīyì sānqiān sānbǎi wàn ge, zú gōng 30 nián páizhào jiǎoxiāo jí huàn fā suǒxū.

Xiè Jiè-tián zhǐchū, chēliàng hàopái róngliàng chōngzú, wèilái hàopái bù huì zàifāshēng Yīngwén zìmǔ yǔ Ālābó shùzì hùnzá shǐyòng de qíngkuàng, qìchē chēpái gùdìng wèi liǎng ge Yīngwén zìmǔ jiē sì ge Ālābó shùzì, jīchē wèi sān ge Yīngwén zìmǔ jiē sān ge Ālābó shùzì.
source: Qìjīchē huànxīn páizhào méi 4 le, Taibei Baodao, November 13, 2005