In 1979 Singapore launched its campaign for people there to "Strike Hard Against Hoklo, Cantonese, and Other Languages that Your Government Says Are Puny and Insignificant Because They Have Only Tens of Millions of Speakers Apiece," er, "Speak Mandarin" (Jiǎng Huáyǔ Yùndòng / 讲华语运动). The city-state has been marking the the 30th anniversary of this with some speeches, such as one a couple of weeks ago by former prime minister Lee Kuan Yew (Lǐ Guāngyào), now "minister mentor."
Lee described the situation:
Thirty years ago I launched the Speak Mandarin campaign. [Singaporean] Chinese students learned Mandarin at school. Unfortunately, they used to speak dialects amongst themselves, at home, and with their friends — a variety of dialects.
Here, "dialects" is of course the standard misnomer for Sinitic languages other than Mandarin.
Lee said that he himself was setting a bad example during the 1960s and 1970s by doing such highly irresponsible things as giving speeches in the native language of the majority of Singapore's citizens. So he stopped all that. And he had the government shut down almost all broadcasts in Hokkien (Hoklo) and other such languages.
Lee said that although he understands "the strong emotional ties to one's mother tongue … the trend is clear. In two generations, Mandarin will become our mother tongue."
Actually, no, that's not clear at all. Rather, a very different trend is apparent. During his speech Lee displayed the graph below, with data taken from surveys conducted by Singapore's Ministry of Education.
Dominant Home Language of Singaporean Chinese Primary-1 Students (1980 to 2009)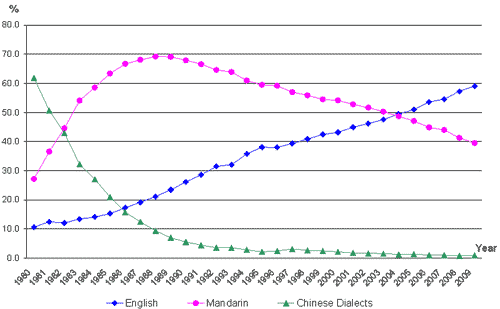 As the primary language of the home for young students, Mandarin has dropped steadily since the late 1980s, while English has risen steadily since 1980, with English surpassing Mandarin in 2004. (Language data for the whole population is more complicated. See, for example, the 2005 General Household Survey.)
Of course the government and Lee recognize this. But they don't want to fight against English, which is crucial to Singapore's success. So what Lee is proposing is that parents — both parents — speak Mandarin, not English, to their children.
(I see from my stats that this site gets lots of visitors from Singapore. Can any of you comment on how well you think the public will respond to Lee's proposal.)
Lee explained in his speech that people have only so many "gigabytes" in their brains to devote to languages.
Though stating that speaking "dialects" in some situations can provide "extra warmth," he warns that by using such languages: "You are losing important neurons with data which should not be there. And like the computer, when you delete it, it doesn't really go away. It's there at the back, and you've got to go to the rubbish channel and say 'destroy.' And it's still disturbing your hard disk."
Thus, those rubbish languages must be destroyed "dialects" must be let go, he said.
On March 8 a linguist at Nanyang Technological University (NTU) in Singapore was quoted in the newspaper as saying, "Although Singaporeans are still multilingual, 40 years ago, we were even more multilingual. Young children are not speaking some of these languages at all any more…. All it takes is one generation for a language to die." But even after all these years, with Sinitic languages other than Mandarin fading fast there, this is apparently still no time to be slacking off, as Lee's principal private secretary, Chee Hong Tat, promptly responded, "It would be stupid for any Singapore agency or NTU to advocate the learning of dialects, which must be at the expense of English and Mandarin."
Part of the reason behind Lee's call, however, is a basic misunderstanding. Setting aside the matters of educating children in a language not native to them and how many languages most people are capable of speaking effectively, the main difficulty with learning Mandarin is not the language itself (especially for those who speak other Sinitic languages) but Chinese characters as its near-exclusive script.
If Singapore is smart about promoting Mandarin, sooner rather than later it will develop a two-track system, with most students studying how to read and write Mandarin exclusively in Hanyu Pinyin, while those who wish become more specialized can go on to study Chinese characters as well. For this to work, Singapore will need to produce plenty of material to read in Pinyin. (A newspaper, for example, would be a must — and one with real news, not just cute stories for kids.) The city-state certainly has the means and motive for this. But does it have the imagination? If it does, most students could save their precious neurons and gigabytes for other things — perhaps even their families' traditional native languages.
SOURCES:
Lee Kuan Yew speech:
Some Singapore blog posts:
newspaper stories:
letter to the editor:
additional: