Taiwan's Ministry of Education has put online new a Web site devoted to stroke order for Chinese characters.
Unlike the older MOE stroke-order online handbook, this new site provides animations of the stroke order for 4,808 of the most frequently used traditional Chinese characters. And they really are traditional, too. For example, a Pinyin search for tai (it doesn't accept tone marks or numbers) doesn't return 台, even though it is more commonly seen in Taiwan than the full form of 臺. But perhaps that's a glitch, since 台 is within the system, as a search for that particular character reveals.
Users can also test their knowledge of official stroke order, since each character's animation also comes with an interactive feature in which users trace the strokes with their mouse. (Click on the button to the top right of the character.) It can be a little picky, as I suppose befits the prescriptive nature of the site. (In the real world, people write many characters using orders other than what Taiwan's Ministry of Education and your Mandarin teacher might tell you is the One True Way. But that's another matter.)
Although there's no English interface at present, the files are labeled in English, so positioning your mouse over the navigation elements will usually reveal enough for non-Hanzi readers to make their way around.
Unfortunately, the site doesn't appear to work with anything other than @#$%! Internet Explorer. Also, at first the search feature allowed the entry of no more than four letters, making it impossible to use Pinyin (Hanyu Pinyin is offered along with Taiwan's official Tongyong Pinyin) to look up characters for, say, zhong and guang, or for the Pinyin syllables with the most letters: chuang, shuang, and zhuang (not counting -r forms); but someone there is on the ball, since that was fixed after I wrote the ministry about it yesterday.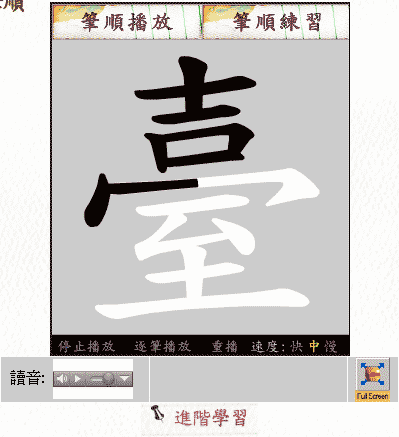 site and further reading: