The ABC Chinese-English Dictionary was published ten years ago. It was revolutionary in that, for the first time, a Mandarin-English dictionary was ordered entirely by the headwords' pronunciation as written in pinyin. (Stroke and radical indexes are also there to aid finding a character when its shape is known but not its pronunciation.) Other dictionaries in the DeFrancis ABC series have followed. But up to now there been no ABC dictionary with an English to Mandarin section as well as a Mandarin to English one.
At the end of this month the University of Hawai`i Press is releasing the ABC English-Chinese, Chinese-English Dictionary. The new dictionary, which is 1,252 pages long, has 29,670 entries in its English-Mandarin section and 37,963 entries for Mandarin-English (total 67,633 entries). (The much larger ABC Chinese-English Comprehensive Dictionary has some 196,000 entries — all Mandarin-English).
This is a big year for Mandarin-English dictionaries, with the forthcoming release of the ABC ECCE and the release three months ago of the massive Oxford Chinese Dictionary. From the standpoint of Pinyin, however, the Oxford dictionary is a disappointment. For example, the Oxford dictionary has no Pinyin in the English-Mandarin section, just Chinese characters; in some other places tone marks are missing from some of the Pinyin, where it appears at all. Perhaps this will be rectified in the online edition, which has yet to appear. At the moment, though, the Oxford looks like a fairly traditional dictionary — albeit a huge one — aimed mainly at English learners in China, which isn't necessarily a bad thing if you happen to be among that very large group of people. For more on the Oxford, see the video at Danwei and the entries at Chinese Forums (with some images) and Language Log.
Unlike the Oxford dictionary, the ABC ECCE offers both Pinyin and Chinese characters for all entries and sample sentences. (See samples below. Click on those for more extensive examples in PDF files.)
From what I've seen so far of the ABC English-Chinese, Chinese-English Dictionary, I expect it to become the dictionary for English-speaking students of Mandarin. I'll write more about this once I'm able to see a hard copy.
The ABC English-Chinese, Chinese-English Dictionary retails for only US$20, compared to US$75 for the Oxford.
From the Mandarin-English section. But don't expect the text in the printed edition to be this large. I've enlarged the image to make it easier to read on the Web.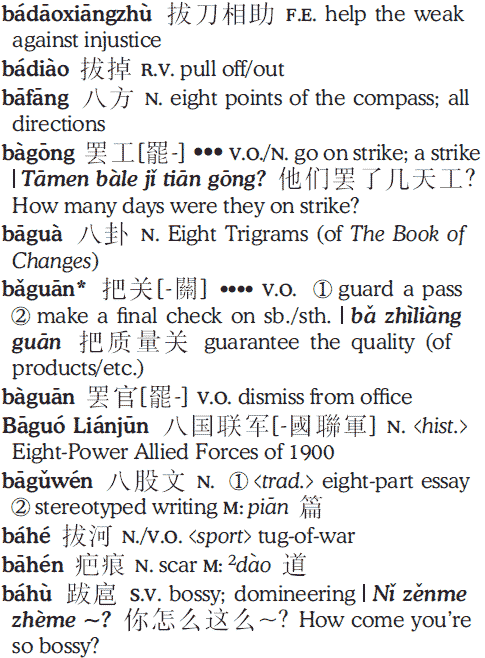 From the English-Mandarin section: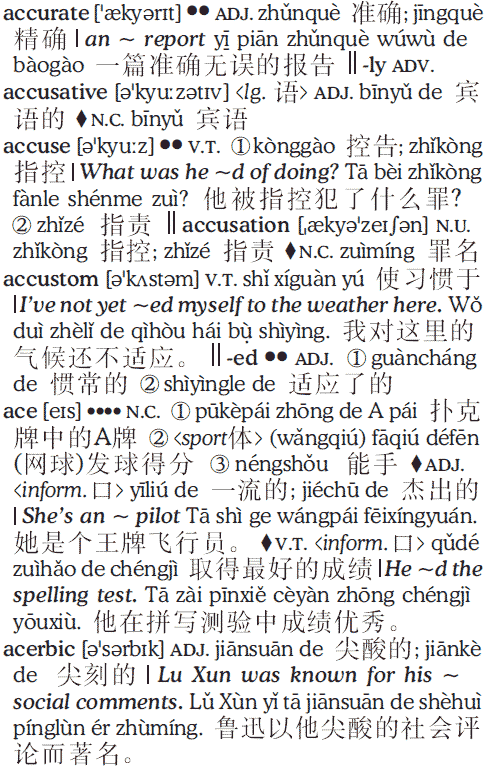 (ISBN-10: 0824834852; ISBN-13: 978-0824834852)
See also: