A search for Pinyin fonts at the Open Font Library currently yields 15 font families.
Not all of those, however, really do support Hanyu Pinyin with tone marks. Here are the ones that work, though not always without problems:
And here's a PDF of all of those Unicode Pinyin font families in action.
I've previously mentioned more than one of these: Pecita and the various Gentium faces. I'll write more about the latter in another post on the work coming out of SIL.
Serif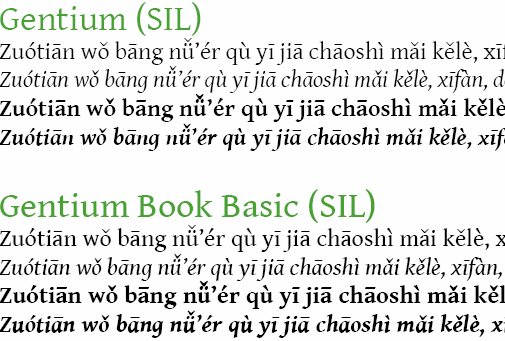 Sans Serif


Monospace
Script
Full list (including fails), for future reference:
Anahi/Abbey
Consola Mono
Crimson
Designosaur
Douar Outline
Futhark Adapted
Gentium
Judson
Libertinage
Logisoso
News Cycle
Pecita
Pfennig
Vegesignes
WireWyrm