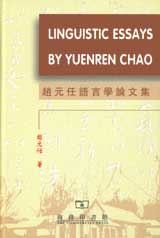 The Commercial Press has begun issuing a set of the complete works of Y.R. Chao (Zhao Yuanren / 趙元任 / 赵元任). This project, which will comprise some twenty volumes, will contain works in both English and Mandarin Chinese. All of the many fields Chao wrote about will be covered. Letters and journals will also be included, as will sound recordings. Wonderful!
For those who don't want to wait for the whole series or don't feel the need to buy all of them, the Commercial Press has also two volumes of Chao's selected essays on linguistics: one in English and one in Mandarin. These are, respectively, Linguistic Essays by Yuenren Chao (ISBN: 7-100-03385-3/H·860) and Zhào Yuánrèn yǔyánxué lùnwénjí (赵元任语言学论文集) (ISBN: 7-100-03127-3/H·789).
Note how the cover of Linguistic Essays, a book printed just last year in China, uses "Yuenren Chao," the traditional spelling and Western order of his name, rather than "Zhao Yuanren," the spelling used in Hanyu Pinyin. Also note how the Mandarin title is given in traditional, not simplified, characters: 趙元任語言學論文集, not 赵元任语言学论文集. A nice surprise, on both counts. On the other hand, the botched romanization on the cover of the Mandarin-language collection, which gives "ZHAOYUANREN YUYANXUELUNWENJI" instead of "Zhào Yuánrèn yǔyánxué lùnwénjí," is particularly inappropriate and painful to look at on a collection of the works of this brilliant linguist. But don't judge this book by its cover.
Here are links to all the volumes in the complete works that I've been able to locate information on: