Late last week, Victor Mair — with some assistance from Matt Anderson, David Moser, me, and others — wrote in "Lobsters": a perplexing stop motion film about a short 1959 film from China that gives some Pinyin. In some cases, the Pinyin is presented for a second and then is quickly dissolved into Chinese characters. Since Victor's post supplies only the text, I thought that I'd supplement that here with images from the film.
See the original post for translations and discussion.
The film often shows a newspaper. The headline (at 7:57) reads (or rather should read, since the first word is misspelled):
QICHE GUPIAO MENGDIE
DAPI LONGXIA ZHIXIAO
But since the image above doesn't show the name of the paper, I'm also offering this rotated and cropped photo, that allows us to see that this is the "JIN YUAN DIGUO RI-BAO"

Elsewhere, there are again some g's for q's. For the first example of text dissolving from Pinyin to Chinese characters (at 2:11), I'm offering screenshots of the text in Pinyin, the text during the dissolve, and the text in Chinese characters. Later I'll give just the Pinyin and Chinese characters.
Hongdang Louwang
Yipi hongdang zai daogi [sic] jiudian jihui buxing guanbu [sic] louwang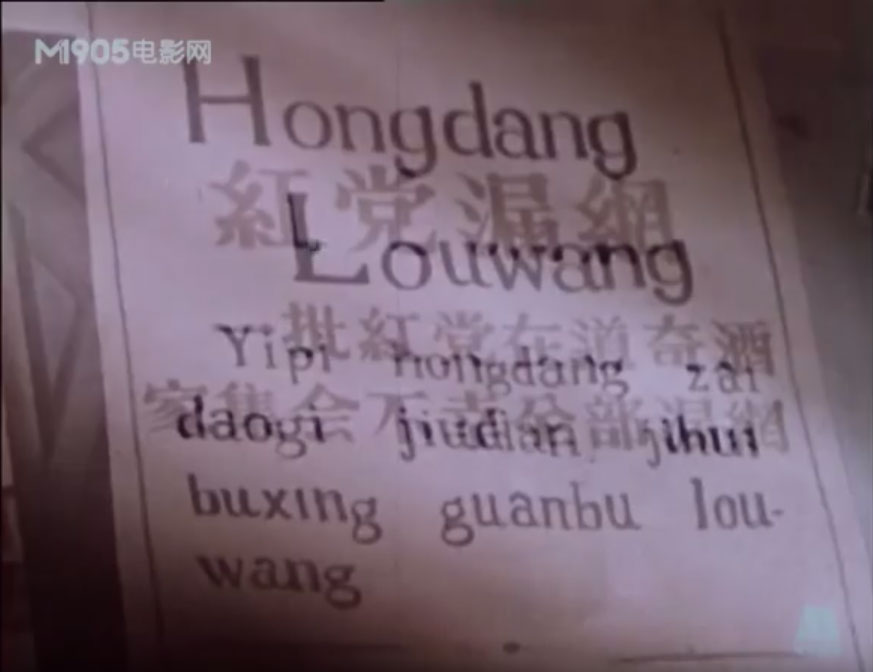 Soon thereafter (at 2:44), we get a handwritten note.

At 3:39 we're shown the printed notice in the newspaper of the above text.

A brief glance at the newspaper at 3:23 gives us FA CHOU, which is probably referring to the stink the bad lobsters are giving off.

Here a man is carrying a copy of Zibenlun (Das Kapital), by Makesi (Marx).

Actually, it's not really Das Kapital, just the cover of the book; inside is a stack of decadent Western material. "MEI NE" is probably supposed to be "MEINÜ" (beautiful women).

I imagine that, in the PRC of 1959, the artists for this film must have inwardly rejoiced at the chance to draw something like that for a change, and that is also why there's a nude on the wall in one scene.