What on earth is going on over at Google?
Just last week I had nothing but love for Google Maps because it had finally made some important improvements to its maps of Taiwan. But just a few days later Google went and screwed up its maps again. The names of most of Taipei's MRT stations are now written incorrectly. In most cases, this is merely a matter of form, with capitalization — and the important designation of MRT — missing. But in more than just a few instances some astonishing typos have been introduced. What's especially puzzling and irksome about this is that in most of these cases Google Maps swapped good information for bad.
Meow tipped me off in a comment yesterday that "In Google Maps, Jiannan Rd. Station and Gangqian Station become Jianan road station and Ganggian station."
Here's a screenshot taken today of some MRT stations in Dazhi and Neihu: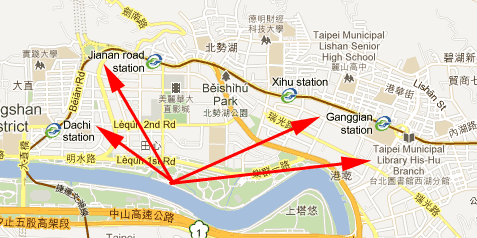 As Meow said, Jiannan is written Jianan, and Gangqian is written Ganggian. What's more, Dazhi is written Dachi, and Xihu is written His-Hu (Cupertino effect?).
There are now many such errors.
Here's a screenshot taken last week.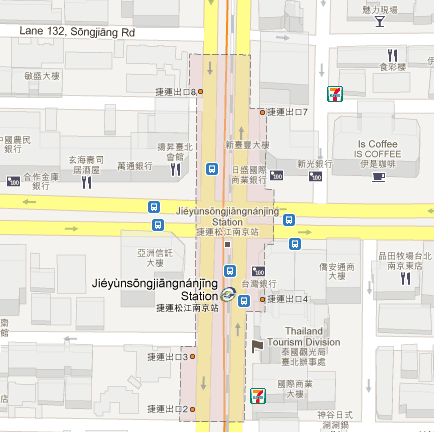 And here's the same place today.

As you can see, one of the instances of Jieyunsongjiangnanjing has been removed, which is good. But that's the end of the good news. Another Jieyunsongjiangnanjing remains. And the one that was removed was replaced by Songjian nanjing station, with Songjiang misspelled and Nanjing and Station erroneously in lower case. And "MRT" is missing too.
It's not just the station name that was changed, as the switch of one location from the Thai tourism office to the Panamanian embassy shows. (Perhaps both are in the same building.)
Here are some more examples of recently introduced errors.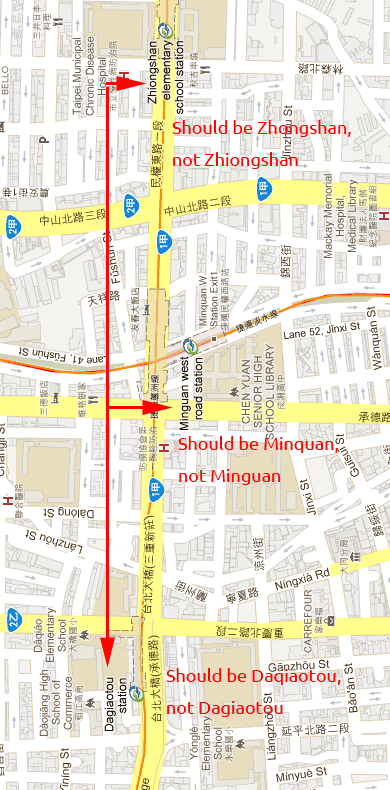 The westernmost station on the blue line is now labeled Tongning. The pain! The pain! It should be Yongning, which is also visible.

In perhaps the oddest example, Qili'an, which has been miswritten Qilian for years, has been redesignated Chlian.

Above we saw Gangqian written incorrectly as Ganggian and Minquan written incorrectly as Minguan. Here's another example of a q being turned into a g: Banqiao has become Bangiao. Even the train station, which is a different rail system than the MRT, has been affected. But the High Speed Rail Station name remains in Tongyong Pinyin, which I most certainly disapprove of but which at least represents the current state of signage in the HSR system.

Sloppy work, Google. Very sloppy. How could this have happened?