China remained the fifth most popular destination for U.S. students studying abroad during the 2008/09 school year, and it continued to account for 5 percent of U.S. study abroad.
In the previous academic year, growth for the PRC as a destination increased 19.0 percent, while study abroad as a whole increased 8.5 percent. But for 2008/09 growth for China was a much smaller 3.9 percent, while the total worldwide figure declined -0.8 percent. Figures for the top four destinations also dropped.
The order of the top 10 remained the same as in the previous year, except Mexico and Germany switched places.
Top 10 destinations for study abroad by U.S. students in the 2006-07, 2007-08, and 2008-09 school years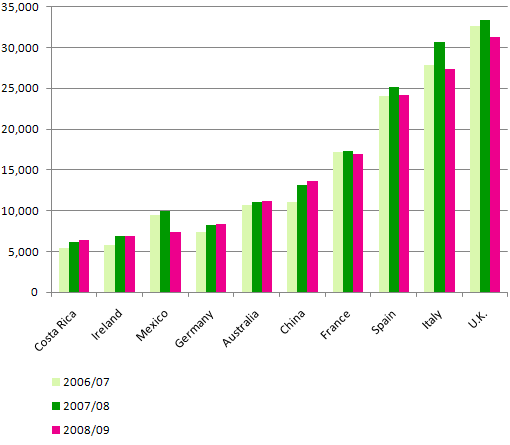 Some other figures of possible interest:
Japan was in 11th place with 5,784 students, a 1.3 percent increase over the previous year.
Taiwan's total grew 3.3 percent to 597.
Hong Kong grew 5.7 percent to 1,155.
South Korea grew a dramatic 29.1 percent to 2,062.
Singapore grew 7.7 percent to 612.
Study in Asia increased slightly.
Percent of study abroad performed in Asia
source: Open Doors data portal
Previous posts on this subject: