My friend David of David on Formosa kindly sent me lots of photos of the current signage at Xindian City Something-or-other Station. Here they are.
Note that some of the signage at the station itself gives the Tongyong Pinyin form (Sindian) as well as the Hanyu Pinyin form; but other signage does not. And the newest signs give Xindian City Office rather than Xindian City Hall.
Sign of things to come?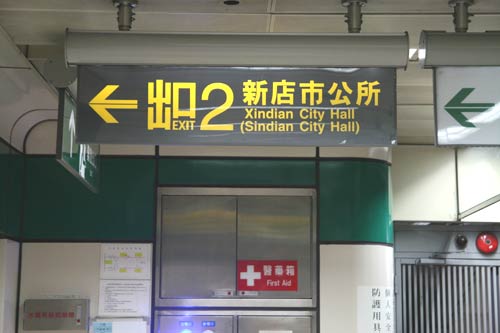 This closeup from the map above reveals that even city hall itself (not the MRT station) is labeled "City Hall."
More than three years ago Taipei County Magistrate Zhōu Xīwěi (Chou Hsi-wei / 周錫瑋 / Zhou Xiwei) said that Taipei County should use the same romanization system as the city of Taipei (i.e., Hanyu Pinyin). But nothing has happened yet — not unlike his administration in general. So here we still see the Tongyong Pinyin form of "Sindian" rather than the Hanyu Pinyin form (now official at the national level) of "Xindian."