Last week I was at my neighborhood shopping mall and saw an interesting ad in the Burger King there. Toward the bottom we find the following: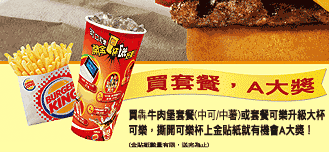 買套餐, A大獎
(Mǎi tàocān, A dà jiǎng)
(Buy a set meal, score a big prize.)
Here, the Roman letter "A" is used to represent a Taiwanese verb that means something like "get in an easy manner" or "make off with" — though the fine print says that customers just have a chance to get a prize, not that they necessarily will win one.
A is often used in A-qián ("A錢": to A money), a mixed Taiwanese and Mandarin term that means embezzle/embezzlement.
Perhaps the Ministry of Education has issued an official Chinese character for this morpheme. But even if they had most people would have no idea how to read it, and it probably would be of spurious origin to boot — just like most of the other characters the ministry has issued. Where a Taiwanese morpheme sounds like the English name of a Roman letter, the romanized form is likely to prevail over the Chinese character.
There are other interesting things about this ad. But I'll get to those in another post.